MSSP - ElementalPlus Program
ESP for Managed Security Services Providers
ElementalPlus™ MSSP Program
Are you providing managed IT, security, data or compliance services?
Would you like to expand your customer base and grow your revenues?
If so, join the ElementalPlus™ MSSP Program!
Elemental Security Platform (ESP) is a powerful automation platform that can provide your company with the technological advantage to:
- grow your revenue and broaden your customer base by competing successfully against other providers - locally and nationwide;
- offer a broad range of risk, security, and compliance management services that your competitors will struggle to match in price, speed, or flexibility;
- become a trusted provider by continuously demonstrating SOC 2, ISO 27000, PCI, HITRUST, and other certifications for your own operations;
- provide all of the above with minimum time, staff, and technology costs.


The ElementalPlus MSSP Program offers the best-in-class security compliance automation and enforcement technology combined with specialized services and dedicated support for select partners.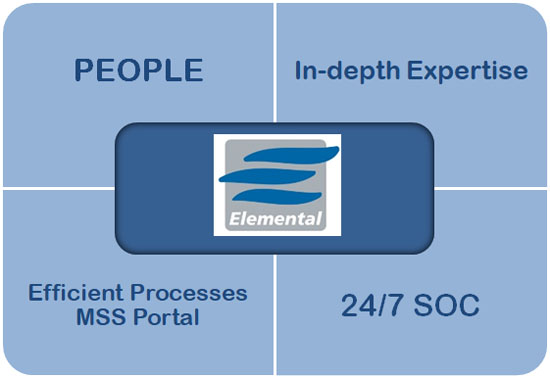 ESP brings automation and security to any cyber risk and compliance initiative. It will set you apart from the rest of the security risk and compliance industry by combining the following capabilities:
ESP's strategic contribution to your growth: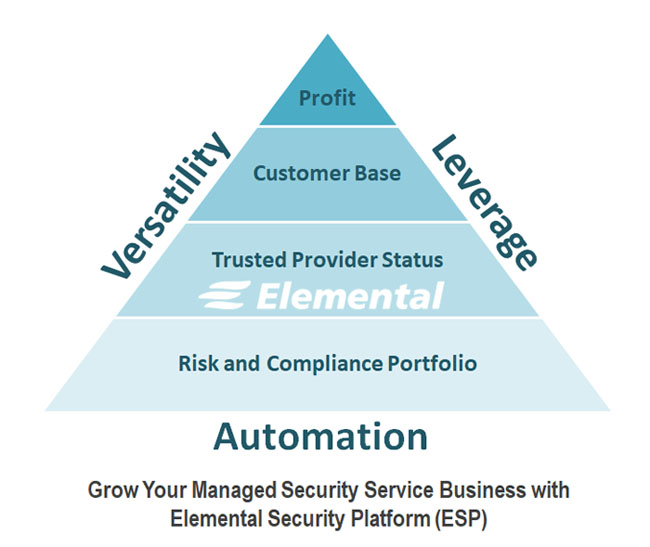 Elemental helps you reach your growth goals such as expanding your portfolio of services, becoming a trusted services provider, building your customer base, and increasing revenue, through:
• Automation: ESP automates and orchestrates risk, security, and compliance at the endpoint level to keep your internal costs low
• Versatility: ESP delivers tailored compliance to customers anywhere, in any industry, regardless of their size, needs, environment complexity, or cyber security maturity level
• Leverage: ESP's cloud based SaaS delivery, and other cutting edge technologies provide fast deployment, smooth support and easy monitoring


What can Elemental do for you?
Elemental's mission is to help you do more with less. We do it by fully automating and orchestrating time-consuming, resource-intensive tasks that are needed to help risk, security, and compliance happen. We also simplify risk, security, and compliance for your team by providing them with easy-to-manage pre-configured, but customizable security policies that they can simply drop on the customer network and start claiming the credit for successful audit outcomes.


Grow your cybersecurity risk and compliance portfolio
Separate yourself from other MSPs and MSSPs in your region by becoming the leader in the field of affordable yet efficient security compliance automation and risk management. Let ESP do all the heavy lifting! With ESP, you can offer: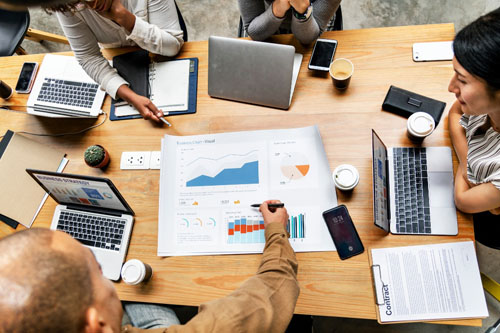 Earn trusted provider status to attract long-term customers - without spending yourself out of business
- Is your company spending too much time implementing technical security controls needed for the SOC2, ISO, HITRUST, or other compliance frameworks?
- Are you lacking the tools needed to continuously manage, monitor, and enforce your SOC 2 or CIS security configuration and policies?
- Do you wish you had a continuous and consistent reporting mechanism to provide historical compliance evidence to auditors and management?
- Do you need an easy-to-manage cyber risk assessment tool that is integrated with your security and compliance policies?
Consider ESP to simplify your SOC 2 compliance and raise your international profile with ISO 27K certification by relying on ESP compliance automation features to help with deploying, monitoring, and enforcing hundreds of technical security controls with ease.


Grow your customer base
Broaden your appeal among potential customers in many regulated verticals including retail, financial, medical, governmental contractors, international service companies, and more by
- providing critical compliance and risk management services that they are required to buy to stay in business
- becoming a trusted provider that potential customers could turn to for data protection and management
- leveraging new technology to offer flexible, scalable solutions that set you apart from the competition


Improve your profit margins
Because of the flexible and scalable cloud delivery model, utilizing ESP to deliver innovating services to your customers requires no up-front investment on your side. ESP can design, customize, deploy, monitor, report, and enforce security policies that your customers need while you provide front-end support for the solution. How can you lower your costs while increasing your profits with Elemental?
- Use one platform, ESP to replace the functionality of several solutions (micro-segmentation, security configuration management, inventory reporting, security risk management)
- Generate upsells that could enhance project profitability without increasing your internal costs
- Avoid investing in expensive hardware or complex changes to existing infrastructure
- Use ESP flexible pricing structure to spend only on what you need


So, why wait?
Start attracting more customers today!
Elemental is here to help!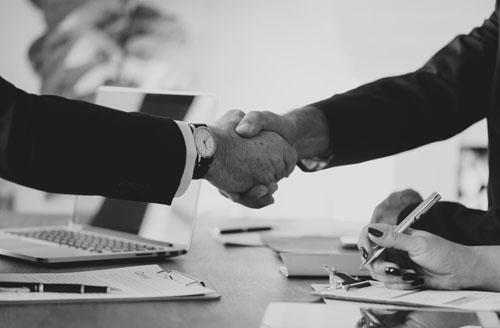 Contact us today to see an ESP demo and talk about business development and partnership!