Elemental Security Platform
The Elemental Security Platform (ESP) is an advanced enterprise level cyber security compliance automation and enforcement system that is suited for any size organization in the cloud, on premise, hybrid and hosted IT environments.
ESP is the game changing self-adaptive policy enforcement driven cyber security solution that ensures critical digital assets are continuously in compliance hence always protected. As a highly integrated, comprehensive, scalable system the Elemental solution is the answer to effective information security, compliance automation and risk assessment. It achieves this through automatic deployment, consistent monitoring and pervasive enforcement of cyber security policies and technical controls.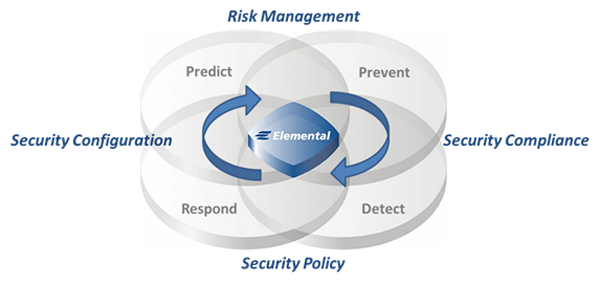 ESP is the most functionally integrated enterprise solution that combines the essential capabilities for
effective security policy compliance automation, enforcement and risk management.
Manage risk with a holistic approach to cyber security, compliance and system trust relationships
By automating the many actions required for efficiently managing security policies, the Elemental Security Platform improves effectiveness, reduces costs, and enhances productivity of IT security organizations.
The ESP system implements security policies consistently across heterogeneous operating systems, environments and throughout the multiple operational layers of networked computers. It monitors the configuration, usage, network activity, and inventory of all managed machines running the ESP agent, therefore continuously assessing, implementing and adjusting the security posture of these systems by deploying new policies in order to self-adapt to changes. It also provides automatic discovery and classification of unmanaged machines.
Elemental Cyber Security Solutions
A Holistic Approach!
Traditional security methods seek to control network access at gateway devices and infrastructure, application, and data servers, but fail to protect network resources once the first lines of defense have been breached. The Elemental system bridges this security gap by unifying the processes of managing access control for systems and users, and by ensuring that authorized communications take place only between machines that can demonstrate up-to-the-moment compliance with their assigned security policies.
With its built-in, in-depth policy reference library, ESP enables users to map their business-based security goals to external regulatory requirements and established security best practices. The Elemental solution's library of ready-to-use policies comprises standard best practices as designed by the CIS (Center for Internet Security), NSA (National Security Agency), DISA (Defense Information Systems Agency) and Microsoft. They also include templates designed to address regulatory compliance challenges such as SOX, HIPAA, FISMA and PCI standards.
The transparency provided by the Elemental solution covers all major operational aspects of computers. It concurrently monitors a machine's inventory, configuration, and network traffic—all under a single unified policy umbrella. ESP keeps security executives and IT management continuously aware of the state of their security. When needed, ESP also provides unique automatic remediation and containment through policy enforcement at the host or network level.
The comprehensive security controls supported by ESP provide the ability to gauge the risk exposure of systems, and ultimately their associated loss potential to the business. The risk and value of systems comprise a critical set of business-aligned metrics that empower IT and security operations to focus their resources on the security issues that present the greatest threat to the organization, and inform all stakeholders through security metrics that are mapped directly to the goals and requirements of the business.